Wednesday, February 10, 2010
Happy Hump Day! Well the snow has become to come here but does not look anything like predicted ...yet. My dear hubby was so ready for a snow day...It looks like he may be going in to work for atleast a while.

Anywho today is Wednesday and time for another Flutter By Wednesday challenge.

To add to the fun, I included a sneak peak of one of the new stamps from Wags n Whiskers- Some Bunny Loves you
.
Our challenge this week at Flutterr By Wednesday is to use the theme of Love, however you perceive it, just be sure to include a butterfly, fairy or angel on your creations.
Leave a
direct link
to your creation in Mister Linky, If you upload to SCS or PCP, please use the keyword, FBW.We can't wait to see what YOU create!! There were several entries last week and we so enjoyed looking at them all!

Now on to my creation:
I had so much fun coloring this image with water colors and using my new Basic Grey Origins paper and ribbon. I am so loving the springy colors. I used the Friday sketchers layout. The spacers and charm are from Stamp and Create.
This image is good for spring but it also a good image displaying love, I used it for Valentine's Day and plan to give it to one of my daughters for Valentine's Day.
If you have not yet played with the
Wags n Whiskers challenge
, to use metal. There is still time. All you need to do is use a Wags n Whiskers image and some metal on your creation for a chance to win a stamp of your choice!! I incorporated the challenge into this card as well.
Card Recipe:
Stamps: New Release sneak peak Somebunny loves You from
Wags n Whiskers
.
Paper: Basic Grey Origins,Bazill Bitter Chocolate, Bazill green
Accessories:
Daisy Spacers 1
,
flower spacers
,double
heart charm,
celery green ribbon from SU, MS Heart border punch
challenges
:


Flutter By Wednesdays
: love theme and butterflies, fairies or angels
Wags n Whiskers Challenge: metal and a Wags n Whiskers image
Raise the Bar: hearts
Creative Belli: Ribbon
CCEE stampers - Heart
Fussy and Fancy - Hearts
Pixie Dust -Decorative Border
Crafty Calendar - Love/Friendship with an option of Hearts
ABC Challenges-New- paper, spacers and flowers
C.R.A.F.T - Love
Double Dutch - Be my Valentine
Paperplay - Love notes
Penny's - Valentine
Charisma cardz - I love you
Delightful sketches - Love
Stampin for the weekend - Love is in the air
Stamp something - Love somethings

Friday sketchers
Crazy4Challenges- Valentine
Creative Card Crew- Valentine
For more inspiration for the Flutter By Wednesday challenge, please visit my dt sisters
Ann,
Cassie
Christine
Harriet
Heather
Jeanette
Jodi
Karen
Kimberly
Kris
Kristie
Lelia
Michelle
Nancy
Nicola
Pam
For more sneak peaks of the gorgeous new line of stamps coming out from Wags n Whiskers, visit my dt sisters:
Wags 'n Whiskers has added on a new artist! She is totally new to the stamping world!! This month Wags 'n Whiskers has 5 fun and whimsical stamps designed by Cris de Lara in addition to several illustrated by Crissy Armstrong. We as a team will be doing sneak peaks today and tomorrow and a blog hop on Friday for the New Release!!!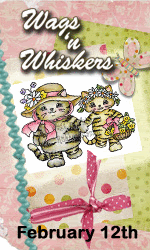 Thanks for stopping by!!! I so appreciate all your visits and wonderful comments. You make my day! I hope you all have a wonderful day! Stay warm! I know I feel cozy in the house as the snow comes down!
Popular Posts

My dt alumni friends